WCF Viking Double Adjustable Performance Shock
Description
The  Warrior  double adjustables are built for WCF to fit on all Fieros
As shown in the chart, the compression force is digressive, meaning the forces ramp up quickly and 
blow off as shaft speed increases. Each turn of the adjustment knob changes the force curve 
throughout the velocity of the shaft, at low and high speed. Often, these tuning adjustments 
provide what is necessary for performance or comfort.
What if you had the ability to alter the force based on the shaft speed of the shock absorber? Now 
you could have higher force at 6 inches per second with lower force at 2 inches per second. The 
force range at low speeds becomes an area rather than fixed lines. For comfort alone, it would be 
huge to tune this way. For performance, there is a whole new realm of possibilities.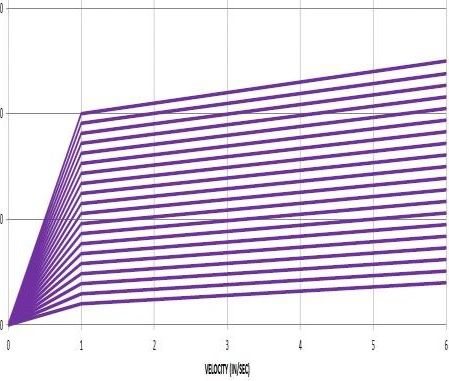 Now that we can control the forces seen at low speed, it opens up the ability to increase the max 
high-speed forces. It is now possible to have a shock with a much larger range of potential 
compression force without having a negative impact on the forces being generated at lower shaft 
speeds. For example, a shock that previously had a max force at 6 inches/sec. of 300 lbs. can now 
have a max force of 800 lbs.
*
Lightweight aluminum twin-tube design with a sleek clear anodized finish.
*
Adjustment knobs: Labeled with a "C" for compression and an "R" for rebound with distinctive clicks. The triple adjustable also has a 1/8" hex
for high-speed compression adjustment.
*
Each click on the adjustment works and makes a change. There are no dead clicks. That is why all Viking tuning recommendations are from full
soft. Other shock brands often recommend tuning from full tight, as often the first 10+ clicks provide no changes to the valving.
*
By not offering non-adjustable or single adjustable, Viking is able to maximize stroke for each body length, ensuring you get the most travel
out of your shock or strut.
*
Aluminum, precision machined piston with a deflective disc and a P.T.F.E. / bronze piston seal.
*
Hard chrome plated, centerless ground piston rod (shocks utilize a 5/8" rod; struts utilize a 7/8" rod).
*
Three-step sealing system.
*
All shocks and struts can be rebuilt or revalved by the Viking factory or any authorized rebuilder. CrusaderTM rebound valving range may be
easily revalved by the user.
*
In coil-over shocks, Viking provides bearing mounts as standard, not the less expensive poly mounts. Bearings perform better in supporting the
weight of the vehicle and provide for misalignment when needed, thereby relieving unnecessary stress on the piston rod and seals. They are also
very durable and don't break down like poly mounts do over time.
*
In bearing mount shocks, Viking uses stainless steel bearing races, not inexpensive nylon race bearings like some competing brands.
*
Left hand threads between the base and the body ensures that the shock/strut doesn't come apart when adjusting the ride height, as can occur
with certain other brands.
*
Viking's double adjustable shocks and struts are priced close to the single adjustable price of most other manufacturers. Viking triple adjustable
shocks and struts are priced close to the double adjustable price of most other manufacturers. Viking focuses on independently adjustable
compression and rebound shocks and struts only, which means a lower price for you!
*
Two year materials and workmanship warranty.
*
Each shock and strut is hand built, tested, and serialized in our Lakeville, Minnesota factory.