Stage 3: 9-11/16" Bronze Ceramic / Bronze Ceramic Clutch Disk
Description
We test every clutch in order to give you an exact minimum holding strength.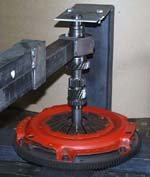 More Holding Power for High Output Engines.
Bronze ceramic material on both sides provides more grip & less slip, giving you the most out of your engine. This clutch upgrade will hold the horsepower of a 3.8 supercharged and V8 conversion with very little pedal pressure increase. This clutch has the least chatter when it gets hot in comparison to other clutches on the market. This clutch is ideal for the more aggressive driver who plans to be rough on the transmission and clutch. Our tests have shown that this disc will break friction at approximately 360 ft/lbs and hold at approximately 400 ft/lbs of torque.