Stage 2: 9-11/16" Bronze Ceramic / Organic Clutch Disk 270851
Description
We test every clutch in order to give you an exact minimum holding strength.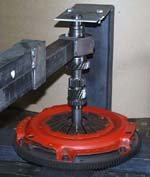 More Holding Power for High-Output Engines
This is a dual friction clutch disc with organic lining on one side and bronze-ceramic pucks on the other. This clutch will hold a medium built 2.8, such as turbo-charging or the 3.4 and 3.8 engine conversions. This clutch has a smoother pedal feel and is less prone to chatter that the  Kevlar clutch. Our tests have shown that this disc should hold approximately 300 ft/lbs of torque.
This clutch is an excellent choice for people who do not plan on being too abusive to a clutch.